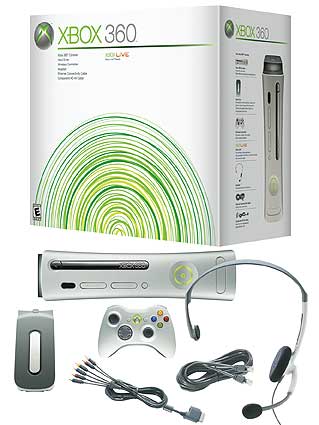 Microsoft have announced details of the packages and prices for the XBox 360 when it launches later this year. Major Nelson has the full press release here, and I'm sure it's available elsewhere too.
There will be two packages, the XBox 360 and the XBox 360 Core System. The Core System version will come with no hard drive, a wired controller, and a S-Video cable, and will sell for $299.99/€299.99/£209.99. The premium model includes a 20GB hard drive, a wireless controller, a headset, component HD-AV cable, and for a limited time the Media Remote controller. This model will sell for $399.99/€399.99/£279.99.
Microsoft also announced several accessories, such as a 64MB memory card, play and charge kit for re-charging the wireless controller via the USB 2.0 port while you continue to play, a wireless networking adapter, and a VGA HD AV cable. No launch date has been specified yet, though 25th November has been rumoured as the European launch date.
It's interesting to see Microsoft's approach on pricing. Without any competition for the moment, they can pretty much charge what they like – within reason. No hard drive on the Core System version is interesting, since it might impact on backwards compatibility, but the HD can be purchased as an optional extra. The lower price point may be enough to get people interested. At that price point you get what looks to be a great gaming console, which can also play your MP3s from your iPod and act as a DVD player.
At an extra $100/€100/£70 for the premium edition, I'm sure Microsoft are hoping that most people will go for the extra value for money represented by the extras you get. I think most hardcore gamers will go for this package, as will many upgraders. It's the one I have my eye on!
However, I think Microsoft have a problem. For me, there's no compelling launch title. Unless Halo 2 looks and plays better on the XBox 360 (and the same goes for other XBox titles), then nothing available straight away will persuade me to upgrade. I bought the XBox early after the launch in Europe, and then Microsoft dropped the price a couple of weeks later. I won't do that again. I'm prepared to wait for Halo 3, and hopefully for the price to come down, before upgrading.
At least, that's what I'm saying now 🙂